The initiative to revitalize the Midtown area of Oklahoma City into an energetic, cultured, urban community has created fertile ground for a unique addition: a green roof.  Installation of the LiveRoof® green roof system by LiveRoof Texas on top of the upscale 430 NW 12th Street apartments is complete.
Green roofs, or planted roofs, offer many benefits including beautification, water management, air purification and increased energy efficiency.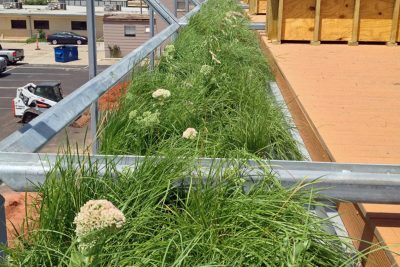 The roof consists of a combination of succulents and native prairie grasses; plants selected for their ability to handle the weather extremes of Oklahoma.  Steve Roberson of LiveRoof Texas says, "We are excited that more people in our region are beginning to understand the benefits of green roofs.  Not only does it create a beautiful landscape, it contributes to air quality, climate control and saves the building owner money through reduced energy demand."
The apartment building has seven units with green roofs and gorgeous, unobstructed views of Downtown Oklahoma City's skyline.  The greenery on the roof adds a lush, garden like atmosphere to the rooftop patio.  The total square footage of this green roof project is 300 square feet.
Once pocketed with blight, Midtown is sprouting an eclectic mix of restaurants, a vibrant art scene, and upscale housing.  The Midtown District is approximately three-quarters of a mile square extending from NW 13th Street south to 4th Street and from one-half block east of Robinson Avenue west to Classen Boulevard.  The area includes a combination of business and residential neighborhoods along with a significant amount of developable land.
Through their company Midtown Renaissance, partners Bob Howard, Mickey Clagg, and Chris Fleming have redeveloped 430 NW 12th from a decades-abandoned office building into a unique, urban apartment building.  Fleming says, "We are committed to redeveloping Midtown in a balanced and high-quality manner.  With features such as the LiveRoof green roof system, the new apartments at 430 NW 12th exemplify this commitment."
Midtown Oklahoma City is a safe, revitalized, and stable historic community, with quality housing for an economically and ethnically diverse community.  In this vision, a hip, energized urban population enjoys exceptional restaurants, stylish shops, and first-rate art galleries, all located nearby.
Learn more about this project on Flickr and at Midtown Renaissance's website.