Delivery & Installation Equipment
Transport and conveyance equipment varies regionally. Confirm available options for delivery and installation with your local LiveRoof representative.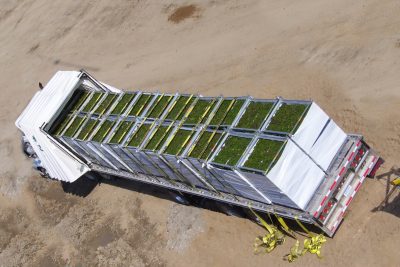 Specialized Delivery Trucks
LiveRoof® Licensed Growers may utilize retractable top trailers for fast and convenient installation. Commitment to effective material handling makes for simple efficient unloading and conveyance to the rooftop. This minimizes installation time and reduces the cost of green roof installation.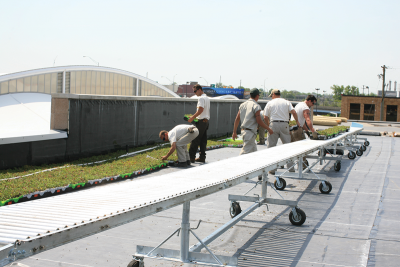 Roll-a-Roof™ Rooftop Conveyors
LiveRoof Licensed Growers may have specialized Roll-a-Roof mobile conveyor systems available for job site use or rental. Such conveyors may be motorized and set on wheels, and can pay great dividends in labor savings.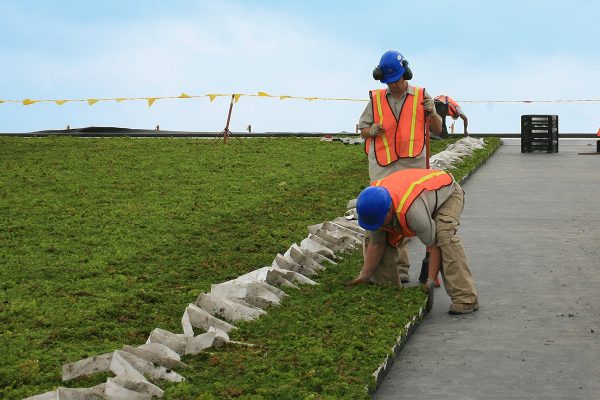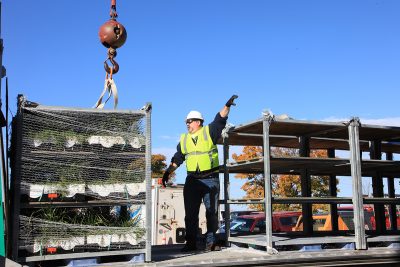 Hoppit® Truck-to-Roof Conveyance Racks
LiveRoof 's co-engineered Hoppit truck-to-roof conveyance racks reduce installation time. A telescoping forklift or crane efficiently lifts and holds the Hoppit directly over the roof surface, the installation team installs the modules, and the empty Hoppit is returned to the truck.
Depending on road load restrictions, a semi trailer will fit up to 24 Hoppits, 36 Standard or Lite modules each, which equates to 864 modules or 1728 square feet of coverage per load. Approximately half the quantity of Maxx or Deep modules will fit on each Hoppit (quantity depends upon vegetation height).
A loaded Hoppit can weigh as much as 2200 pounds. Size your lifting equipment accordingly, and remember that lifting capacity and stability decrease with arm swing/extension and boom height.