As the long-anticipated 101 Seaport – a 17-story, 440,000 square-foot office building– nears completion, it's being topped off with 5,000 square feet of LiveRoof living roof. Skanska USA has made sustainability a key building feature by reducing energy and water use.
The vegetative roof will reduce the need for on-site stormwater management systems. The soil in green roof systems acts like a sponge and absorbs excess rainwater. This reduces the impact of a new building on the municipal storm drainage system and surrounding watershed by reducing flooding and erosion.
The living roof, along with a host of thoughtfully designed building features, is anticipated to earn a LEED Platinum certification for 101 Seaport.
"As we look forward to transforming Seaport Boulevard into a thriving, growing Boston business corridor, we are committed to ensuring the highest levels of sustainability in every Seaport Boulevard building."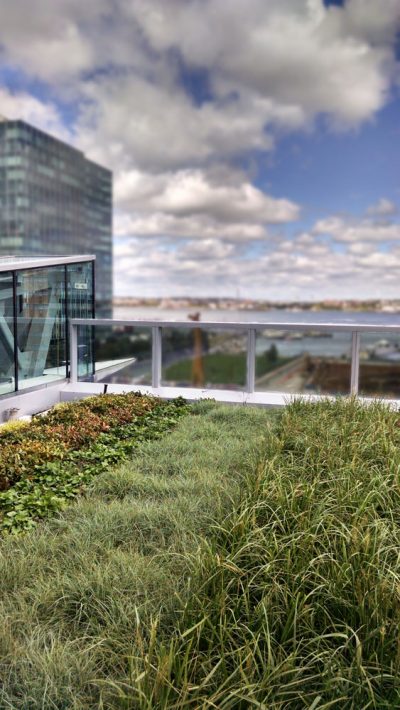 Prides Corners Farm is a family-owned regional wholesale plant grower, growing over 2200 varieties of plants on 350+ acres. The nursery is also a member of the LiveRoof licensed grower network, providing LiveRoof products in Connecticut, Maine, New Hampshire, Rhode Island, Vermont, and Eastern New York.
"Prides Corners Farm is passionate about helping our clients meet and exceed their sustainability goals," said Mark Sellew, owner, Pride's Corner Farms. "We provide a locally-sourced and supported turnkey green roof featuring native plants that helps our clients, like Skanska, meet and exceed their sustainability goals such as reducing water consumption and improving water efficiency."
The green roof was designed by Copley Wolff Design Group, Landscape Architects and Planners, Boston, and installed by Apex Green Roofs, Newbury, MA.  Skanska USA is the general contractor.
Green roofs provide natural function and beauty. A patented, subterranean modular system unites the soil and plants creating a naturally beautiful meadow-like aesthetic.  The roofs provide aesthetic, environmental and social benefits.
Financial benefits can also be achieved from a vegetative roof including: extension of roof life, energy conservation, enhanced public relations, and conservation of municipal septic systems.