A living, planted roof system is currently being installed atop  Middlebury College's new Squash Center. The LiveRoof® Hybrid Green Roof System was selected for the living roof system, which should be completed by Friday, August 22.
The new Squash Center opened last fall, with expanded playing space that has allowed for growth of the Middlebury Squash program.  Men's and women's teams are able to practice simultaneously, the college is able to host more matches and tournaments, and the varsity athletes use the space to host training clinics for local youth.
"The green roofs help contribute toward our initiatives to provide a sustainable living and learning environment for our students," said Mark Gleason, the squash center project manager with Middlebury College.
According to Gleason, "The plants and soil on the rooftop help to retain and filter rainfall, reducing demand on local water treatment facilities and impact on nearby waterways.  In addition, the plants beautify and naturally cool the building, allowing for a more comfortable playing space for the athletes at a reduced air conditioning cost."
The modular green roof system will be delivered fully grown by Prides Corner Farms, the regional grower for the LiveRoof system, and will be installed by Apex Green Roofs.  The green roof was designed by ARC / Architectural Resources Cambridge to look like an extension of the greenery of the athletic playing fields which surround the squash center.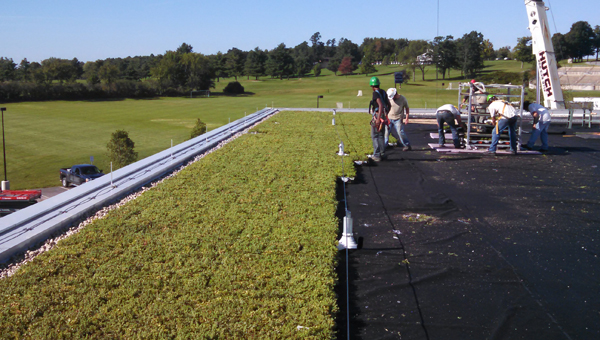 "The green roof uses locally sourced plants and soil and was custom grown under our care," said Jim Costello of Prides Corner Farms.  "The day that it is installed, the plants will be fully mature, which will provide instant gratification with low maintenance requirements."
Featured on WPTZ – Green Living Roof Going in at Local College