The Pappajohn Biomedical Discovery Building (PBDB) is the site of the very first green roof on the campus of the University of Iowa.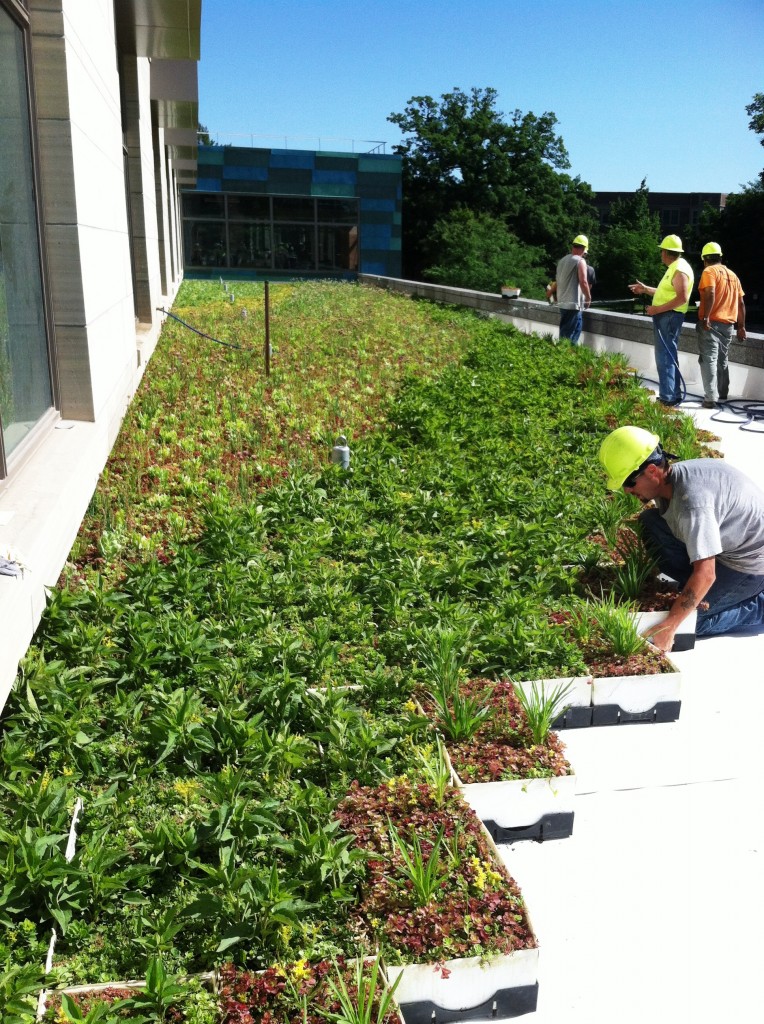 In addition to providing many environmental benefits, the green roof will give building occupants a gorgeous view.  It features five unique sedum mixtures with a variety of perennial plants including Black-eyed Susan, alliums, liatris and hostas.  The green roof uses the LiveRoof® Hybrid Deep System with six inches of silk and totals 6,440 square feet.  The fully vegetated modules were grown by Roof Top Sedums at their location in Davenport, Iowa and then shipped to the building site and installed by LiveRoof® Certified Installer VIS, LTD.
The 200,000-square-foot, six-story facility, located on the University of Iowa Health Science Campus, will house laboratory and office space dedicated to leading-edge, cross-disciplinary research involving scientists from across the campus.  Designed by noted architect Gwathmey-Siegel, lab consultant Payette & Associates, landscape architect Confluence, and local architect Rohrbach & Associates, the building features include a vivarium, biomedical wet research laboratories, a linear accelerator, several MRIs, office suites, outdoor classroom and lush site landscaping.  The building provides access through tunnel and bridge connections to adjacent buildings.  Construction of the Pappjohn Biomedical Discovery Building is being overseen by Walsh Construction and is expected to be completed by the end of July, 2014.  The green roof is one of the many green features that will be listed when UI officials seek Leadership in Energy and Environmental Design (LEED) gold certification for PBDB.
Roxanne Nagel, co-owner of Roof Top Sedums says, "This green roof features a unique plant palette created by choosing plants with diverse colors and textures.  The green roof design makes a bold visual statement and is visible from many levels of the building.  The green roof also has several different microclimates that allowed designers to stretch the limits and use shade perennials such as hostas intermixed with the sedums."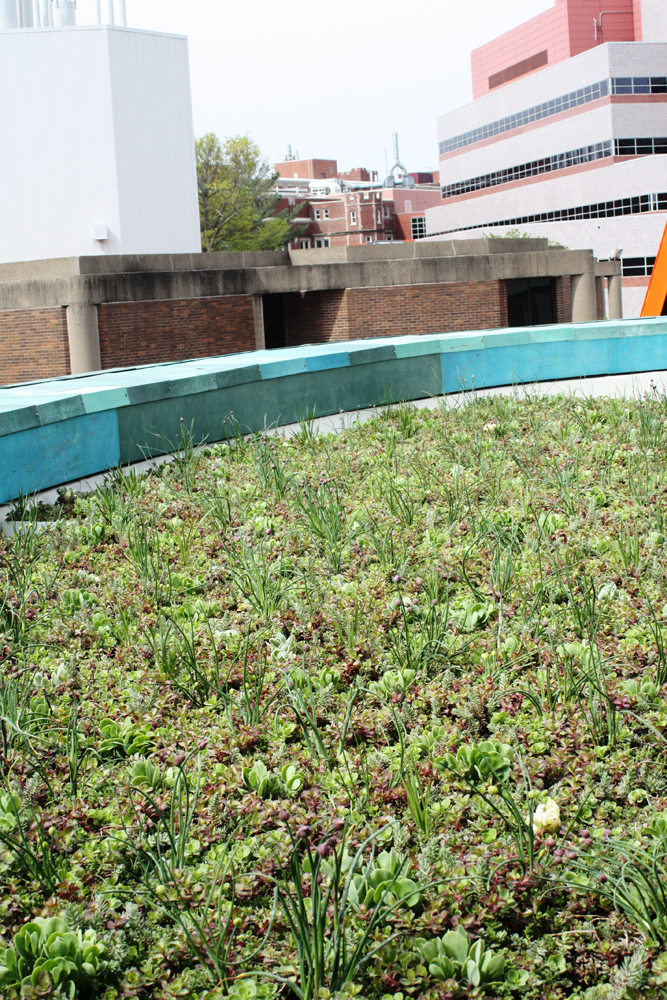 Liz Christiansen, director of University of Iowa Office of Sustainability says green roofs support the UI 2020 Vision Sustainability Targets by providing several important ecosystem, economic and social functions.  "They capture rainwater, filter it and release some of it slowly, thus reducing temperature and runoff impacts in the watershed.  Green roofs protect the roofing membrane and prolong its life, as well as moderate the urban heat island effect.  These benefits reduce long-term maintenance costs for buildings and grounds.  Green roofs can help the UI achieve its goal in the area of energy conservation, because green roofs reduce the demands on building cooling, especially during periods of peak electricity demand.  Green roofs can also provide urban outdoor space four building residents to enjoy," she said.
Darice K. Baxter, CISEC, Environmental Specialist of UI Planning, Design and Construction Environmental Services, says the PBDB's green roof is a post-construction best management practice and is part of the effort to reduce storm water runoff.  "Storm water benefits of PBDB's green roof includes absorbing and storing rain water, as well as reducing toxic pollutants such as lead and zinc," Baxter said.  "Hot rooftop surfaces transfer their excess heat to storm water, which then drains into storm sewers and raises water temperatures as it is released into streams, rivers, ponds, and lakes.  Such rapid temperature changes can be detrimental to aquatic ecosystems.  Installing a green roof helps to lessen the heat island effect and this building is one block from the nearest waterway, which happens to be the Iowa River."
Members of the press may schedule an appointment by calling or emailing Natalie LInveille-Mass at (3099) 786-5142 or natalie@medialinkinc.com.
For more information about the sustainable building practices at the University of Iowa, contact Liz Christiansen at (319) 335-5516 or liz-christiansen@uiowa.edu.
About the University of Iowa: Founded in 1847, the University of Iowa is the oldest university in the state.  The university is currently organized into eleven colleges, and offers more than 100 areas of study, as well as seven different professional degrees.  The university is noted as the original developer of the Master of Fine Arts degree.  The Beautiful campus spans over 1,900 acres and is also home to the University of Iowa Hospitals and Clinics; which has been named one of "America's Best Hospitals" for the 23rd year in a row.  Included in the university's long list of esteemed associations are the active research memberships with several research coalitions including: The American Association of Universities, The Universities Research Association, and The Committee on Institutional Cooperation.  The University of Iowa boasts an alumni network that exceeds 250,000.