Mission
Our mission is to empower customers with systems, protocols and plants that make green roofs simple and lasting, accessible and serviceable.
We aim to be knowledgeable, innovative and uncommonly helpful as we foster a greener world.
Vision
Our vision is to restore the balance between green space (plants) and hard space (concrete, asphalt and rubber).
We aim to create a more hospitable planet by proclaiming the benefits of plants and helping our clients to successfully install and cultivate them (on rooftops).
Method
LiveRoof provides natural function, as it unites the soil across the entire roof.  This allows for equal distribution of moisture, fertility, and beneficial organisms, and is the key to long term function of the green roof system.
Modules are subterranean, supporting natural beauty with a meadow-like aesthetic.
Hybrid Green Roof System
Our patented hybrid green roof design combines the best features of alternate green roof methods:
Locally Made, Grown & Supported
LiveRoof plastic modules, concrete pavers, aluminum edging, and other accessories are manufactured in the United States.  LiveRoof brand engineered green roof soils are blended by local soil formulators and planted by local Licensed Growers in the USA and Canada.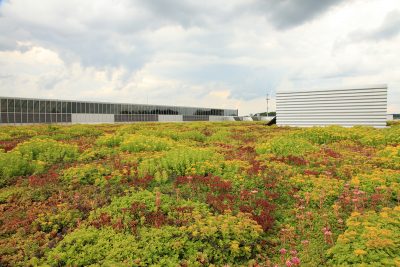 RoofTop Proven™
We breed and select the most outstanding plants, and subject them to rigorous rooftop trials and broadscale hardiness testing.  We proudly offer dozens of exclusive, RoofTop Proven™ plant selections specifically developed for performance on green roofs.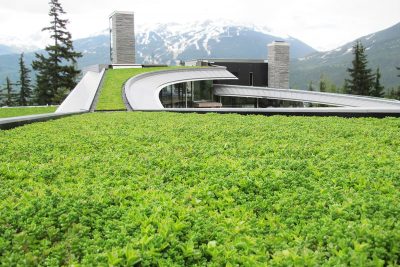 Time-Saving Design Tools
To support design professionals, we maintain an architecture and engineering section on this website, as well as a printed Idea Guide & Designer's Checklist.  These resources are kept current with the knowledge we have obtained through our supply of thousands of green roofs totaling millions of square feet.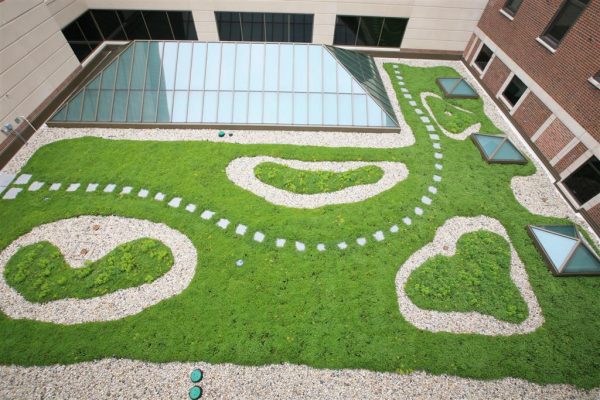 Generate Custom Specifications
Every green roof is unique, so we've made it easy to generate custom specifications for your project. Use our Spec Writer form and download your LiveRoof specifications sheet.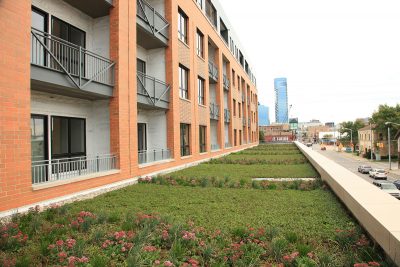 A Green Roof System that Optimizes Benefits
Green roofs offer many benefits to both building owners and the communities in which they're situated.  With LiveRoof, you get an instant green roof, for optimized benefits from the day of installation.
What's New at LiveRoof?
April showers bring May (and June) flowers... on rooftops! From British Columbia, Canada... (supplied by NATS Nursery) ...to Santiago, Chile... (supplied by VerdeActivo) And many places in between, LiveRoof brand green roofs [...]
This morning, West Michigan's 13 ON YOUR SIDE Morning Show broadcast live from the new rooftop sculpture garden at Frederik Meijer Gardens (Grand Rapids, Michigan).   The new addition to the botanical gardens opened to [...]
Combining the LiveRoof extensive green roof system with specimen trees and shrubs may present an attractive alternative to traditional intensive green roofs, reducing weight load and both installation and maintenance costs. Green roofs for [...]
LiveRoof is brought to you by the same team as these leading brands:
We are always looking for great team members! LiveRoof is based in Nunica, Michigan. Click to see open positions with LiveRoof, LiveWall, and Hortech companies.