Armstrong Atlantic State University will host a public Grand Opening on April 29, 2013 at 3:00 PM for their new Learning Commons, which includes a green roof. During this event, the public is invited to tour the Learning Commons. The project's design incorporates a colorful, environmentally-friendly 500 square foot roof planted with flowers, grasses, and other attractive plants carefully selected to thrive in Savannah's climate.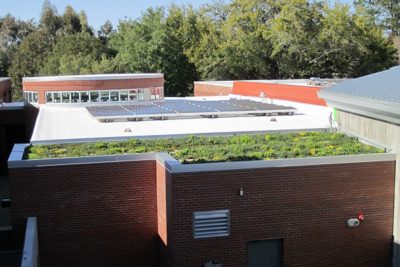 The Learning Commons project repurposes an existing facility to create a space that facilitates and encourages students to engage in collaborative learning. Armstrong's Learning Commons, which fronts the green of the core campus quadrangle, is a satellite library facility located in close proximity to the existing Lane Library and the recently completed Student Union. Though not physically connected to either, it will serve as a virtual link between the two facilities. The project has been designed to LEED Gold Certification standards and includes the LiveRoof system as well many other sustainable concepts. The new LiveRoof green roof can be viewed from the second floor balcony of the Student Union.
In addition to adding natural beauty and interest to the Learning Commons roof, the vegetation from this installation absorbs rainfall and reduces storm water runoff. This green roof protects the roof from the elements, extends the membrane life, and helps reduce rooftop temperatures during summer to save energy.
The green roof was grown by James Greenroofs, a licensed LiveRoof Grower. The roof contains a mix of Sedum, Delosperma and grasses. The LiveRoof system also features a unique plant with spiral leaves from South Africa known as Albuca "Frizzle Sizzle," which can only be found in a LiveRoof produced by James Greenroofs.
"This live green roof serves as a visible expression of the many sustainable features incorporated into the Learning Commons renovation project and of the University administration's commitment to going green on the Armstrong campus", stated Mel Manor, AIA, Construction Project Manager at Armstrong Atlantic State University.
"The green roof atop the library has been a great project. The plants on the green roof are unique, hardy, and definitely eye catching," says Mike Saunders, LiveRoof Specialist at James Greenroofs.