The College at Brockport's Allen Plaza will be landscaped with a green roof over the coming week. A living, planted roof system will be installed as part of a plan to improve site enjoyment and sustainability. The LiveRoof® Hybrid Green Roof System was selected for the green roof system, which was installed Tuesday, November 11 through Thursday, November 13.
The Allen Plaza has undergone extensive restoration and enhancements since construction began earlier this summer. Renovations include addition of a drainage system for the deck surface, repair of damaged structural, mechanical and electrical components below the plaza, and addition of a covered walkway between Drake and Allen entrances. The site design by Flynn Battaglia Architects includes additions of seating and landscaped areas to improve the site's accessibility and enjoyment by students, faculty and staff.
"Green space is a high priority in our facilities development. The green roof is part of a renovation that reduces our environmental impact while expanding useful space," said Robert Henry, Assistant Vice President for Facilities and Planning at the College at Brockport.
Allen Plaza's new green roof has replaced approximately 70% of the impervious concrete surface with plants.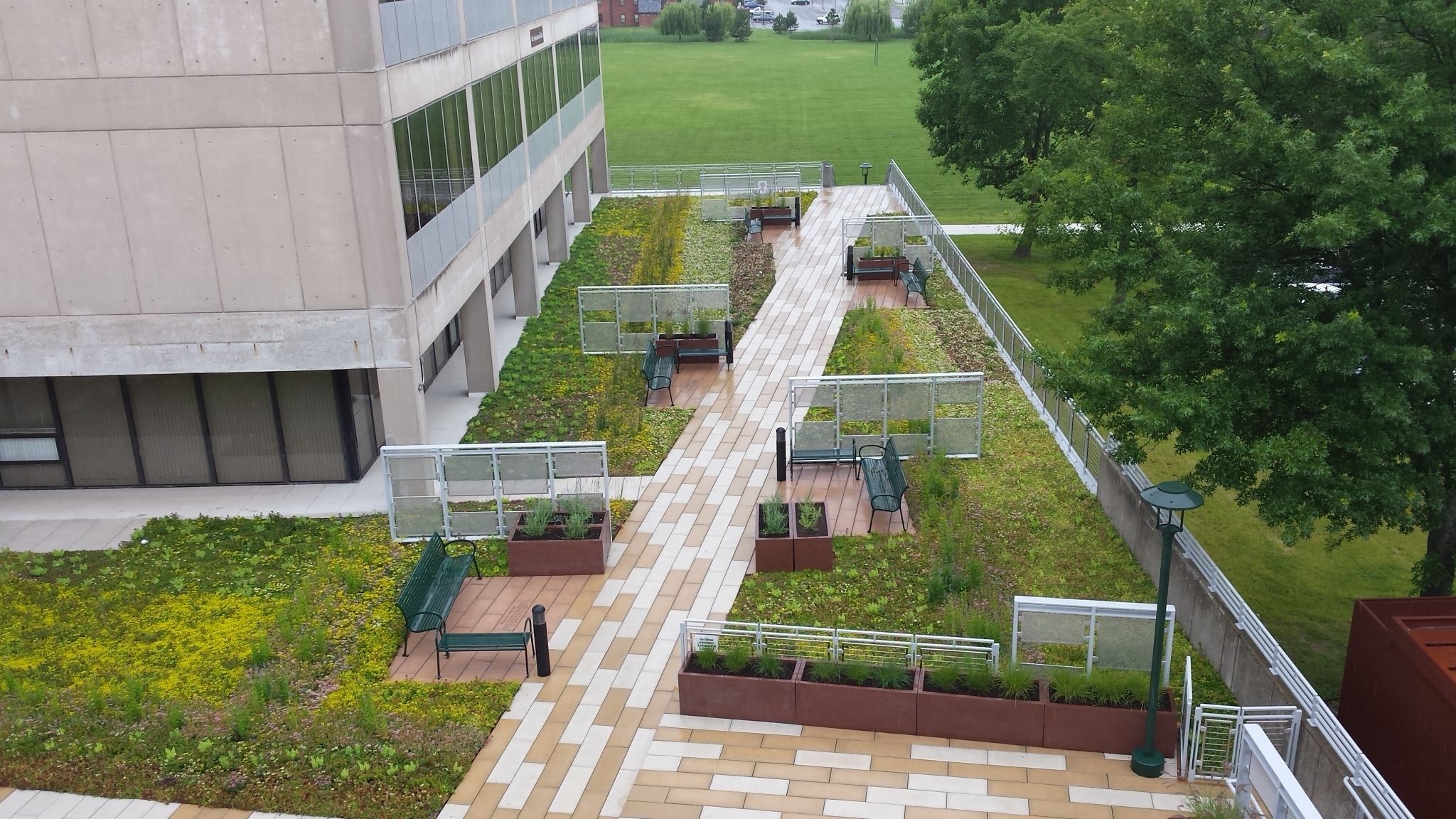 According to Henry, "The green roof system acts like a sponge, soaking up rainfall and reducing the runoff from the site, having a positive impact on local water quality. In addition, the plants beautify and help to cool the rooftop, making it an enjoyable gathering place for students and administrators."
The modular green roof system was delivered fully grown by Corso's Perennials, the regional grower for the LiveRoof system, and was installed by a collaborative effort between Leo J. Roth Corporation and R.M. Landscape.  The green roof design and plant selection were completed by the firm Joy Kuebler Landscape Architect (JKLA).
The green roof includes 35 different plant species and totals 5300 square feet in size.