LiveRoof, LLC is a West Michigan Company that developed the LiveRoof® Hybrid Green Roof System: the only green roof solution installed with fully mature plants thriving in a healthy, connected ecosystem from day one of installation. LiveRoof's natural function and natural beauty offer exceptional performance, require very low maintenance and have a predictable cost. LiveRoof projects often become signature elements on commercial, public, university and school buildings all over the US and Canada.
I am Doni Burton, Business Development Specialist for LiveRoof Global, LLC. It is my privilege to interview amazing people from our LiveRoof Network this year. My main responsibility as business development specialist is working with LiveRoof Global Growers and their customers. Previously, I completed my doctor of education in 2019 and most of my career was in educational administration. I have also taught for many years as a university professor, but working at LiveRoof has taught me about the incredible benefits provided by green roofs. My hope is that this series of interviews will nurture the environmental and horticultural interests of each reader.
This year LiveRoof celebrates its 16th year and we are doing so with a year-long theme: The Evolution of the Green Roof. Specifically, we will focus on LiveRoof Growers, Products, Processes and Plants. Please enjoy this first interview in the series. Additional interviews to follow include: Sedums as Green Roof Plants (April), Forbs as Green Roof Plants (June), Grasses as Green Roof Plants (August), and The Evolution of Biodiversity in Green Roofs (September).
To start off our theme, I went straight to the source of it all, Dave Mackenzie – founder and owner of LiveRoof. I wanted to find out more about what makes LiveRoof stand head and shoulders above the rest, and to hear LiveRoof's origin story. Here is what he had to say…
"LiveRoof evolved from Hortech, our parent company, which is a grower of perennial plants, that has specialized in ground cover plants for most of our 39-year history. Somewhere around 2005, we began to see some of our Sedum ground cover plants being used on rooftops, mostly small green roof projects, but also Ford Motor Company's 10-acre green roof (for which we did some of the growing). As things progressed, landscape contractors and designers turned to us for advice on green roof plant selection and to address this, we put together a line of plants called "LiveRoof Plants", specific to green roof applications (plants that resist wind, cold, heat and drought)."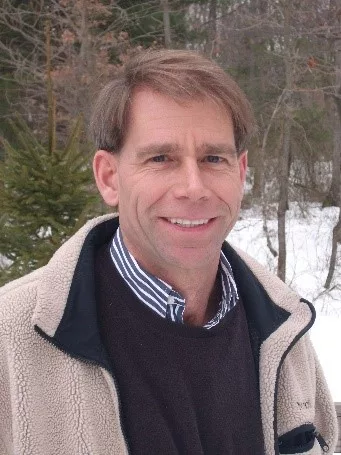 Dave MacKenzie, founder of LiveRoof Global, LLC.
"That was our beginning, and soon the phone rang with Walsh Landscaping, from Chicago asking for a meeting. They were seeking a "better mousetrap" and explained that they were installing three types of green roofs; carpet systems, modular systems, and plant-in-place systems… but had frustrations with each. They asked for a "better mousetrap," one which had all the benefits and none of the drawbacks. They were seeking a "hybrid solution." So, based on their list, and with a review of how modular soccer fields were constructed (fostered by one of the managers at Walsh Landscaping), I had the "ah-ha" moment where it became clear how to create the better mousetrap. Within a day I made a prototype and within 3 days we had a manufacturable concept and a committed manufacturer. Soon, the word got out and we began fielding calls from all over North America."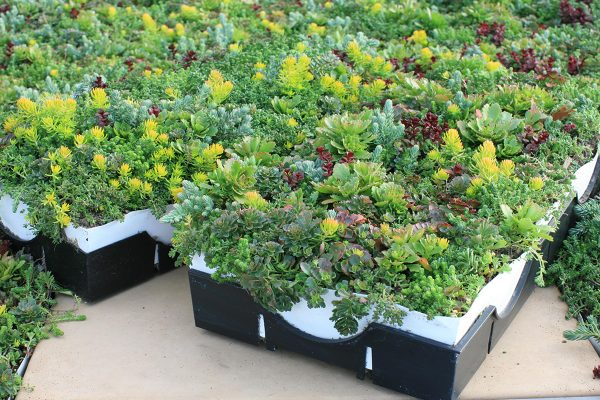 The "Better Mousetrap." LiveRoof® Standard modules with removable soil elevators.
"With calls coming in from all over, and realizing that we couldn't service all of North America from Michigan, I turned to some of my horticultural colleagues, owners of other nurseries, and invited them to come on board as LiveRoof growers in their regions of the U.S. and Canada. We formed a team, all dedicated to common goals and committed to high standards of growing, service and quality."
Next, I wanted to learn more about LiveRoof's team of global professionals. I asked Dave to tell me what makes LiveRoof people so special? "That's easy; we're all purpose-driven professionals with a desire to make a positive impact on the health of the planet and its occupants. We know we have a choice to make; we can exploit the environment or do something to protect and improve it, and therefore leave a legacy that benefits future generations."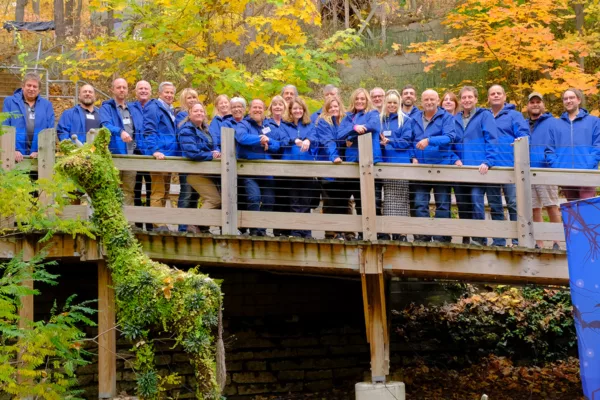 LiveRoof Global Grower Network, 2022.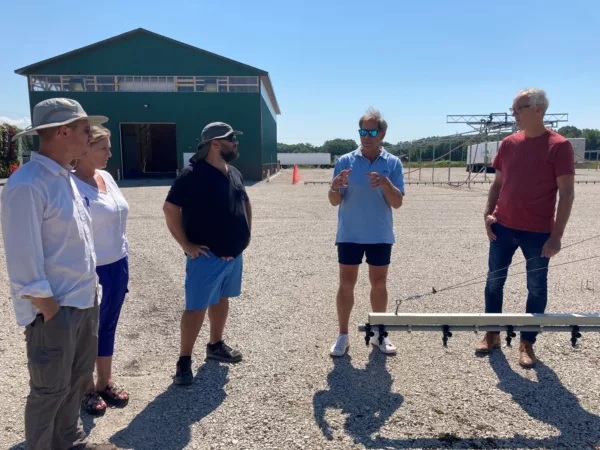 Dave and LiveRoof LLC teammates training new growers from Pioneer Gardens (LiveRoof Northeast).
When it comes to legacy and the reach that LiveRoof has across the country, how does LiveRoof engage business owners across North America? "We do whatever it takes; we go to them, we invite them to visit us, we speak at meetings and conferences, network at events, post on social media, advertise judiciously, etc. etc."
What does LiveRoof value most in a customer? "Ideally, we work with customers that share our purpose of wanting to positively impact the planet, especially when they understand and seek to derive a range of benefits from their green roof. But, frankly, we're happy to work with anyone that wants or needs a green roof. Even skeptical customers that are forced to install a green roof, perhaps to meet building code, can become proponents of green roofs. Once they have one, and when it's done right, they are likely to become appreciative of the entire "buffet of benefits" that a green roof can provide. We're always going to do our very best, no matter who the customer is and no matter what their motivation is for acquiring a green roof."
Next, I wanted to focus on the processes. Dave shared how LiveRoof processes enhance customer experiences. "We are all trained professionals who know horticulture, roofing and green roofing. Many of us have decades of experience and we have systems in place for sharing knowledge throughout our network. We stay up-to-date on the modern ways of doing things, automated spec. writers, BIM, LEED, etc. But we've been around long enough to know what good service looks, and feels like. We still answer the phone, meet face to face, and respond in timely fashion. We realize that it's not about us, "it's about the customer."
Plants can make all the difference with a successful green roof, I wanted to take the time to focus on plants with Dave.  We know that compared to other industries, the green roof industry in North America is still relatively young. Dave takes the time to consider: how have green roof plants evolved over the years?
"In respect to the green roof industry at large, I don't think the plants have changed very much… maybe a few more roofs with biodiversity. But, for LiveRoof, we're just beginning to see the fruits of our labor, and I believe that some of our greatest advances are just beginning to become impactful. For the last twelve years, we have been selecting and breeding plants that are designed specifically for rooftop growing. The focus has been on enhanced resistance to cold, heat and drought, but we've also focused on developing plants with unique colors, growth habits that smother the soil and reduce maintenance, and native varieties that stand upright in high winds. We are just scratching the surface on greater biodiversity, habitat re-creation, and pollinator support, to enhance the value of green roofs."
Clarence and Lisa Hall celebrate the LiveRoof on their Chatham Executive Building.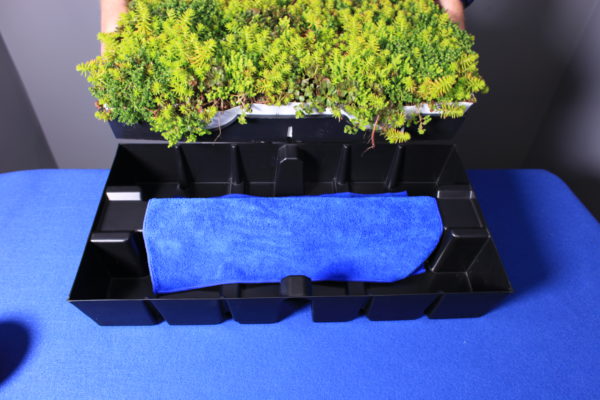 LiveRoof RoofBlue® RETAIN™ – Our latest blue-green roof technology.
Then, I wanted to explore LiveRoof Products. Dave shared his insights about the unique LiveRoof  System. "It is the only system that, by U.S. and Canadian patents, can have a removable soil elevator. This is a component that allows us to raise the soil height during the growing of the product. When the product is installed on the rooftop, the soil elevator is removed and the soil is integrated across the entire roof (not segmented by trays), and therefore functions naturally, as one monolithic soil stratum. This is the core differentiator; we also use the very best engineered growing medium, designed to last indefinitely and our systems are fully integrated with what I believe are the industry's best plants, delivery methods, edging, paver system, wind uplift system, retention and detention systems, protocol for care, and customer support."
How have LiveRoof products evolved over the years? The core modules are undergoing their first revision in 15 years; this, I believe is a testament to "doing it right the first time". The core product is timeless, but we're making a little modification to make it even easier to install. And, recently we completed a 3-year study and introduced a product called RoofBlue RETAIN, which boosts storm water capture and enhances plant growth. There is always something that we are researching to make things simpler, better and easier.
Conclusion – Looking Forward to the Future
What does Dave look forward to most for LiveRoof customers in the future? "I especially like to see and hear about how their green roofs have brought them rewards beyond their expectations; words like "it's so easy to care for," are always nice to hear. But, stories about how their LiveRoof has become a source of pride, how it gives them a connection to nature, and how it helps to define them and their organization. These stories support the "buffet of values" that green roofs can bring, and they suggest that green roofs can become common practice, for the betterment of the planet and its occupants."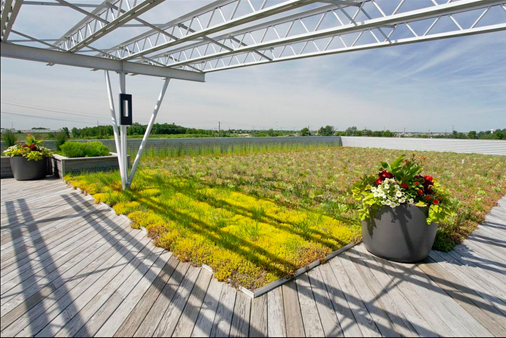 A diverse planting at Sebert Landscaping.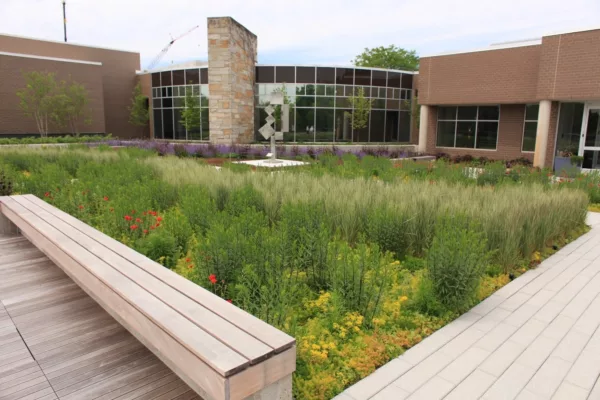 Frederik Meijer Gardens. Used for education, events, and everyday visits by the public.
This is the first in the series The Evolution of LiveRoof: Its People, Products, Processes and Plants. We hope you enjoy the series throughout this year. The next interview will focus on Sedums and will publish the end of April. I'm Doni Burton, Business Development Specialist for LiveRoof Global. I can be reached via email at doni@liveroof.com.