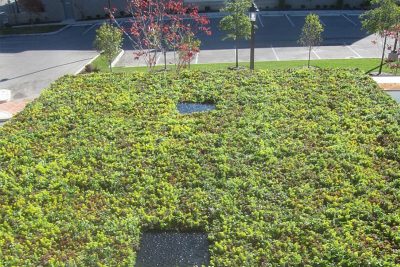 Wildwood, MO (March 2013) – Wildwood Municipal Building's Grand Opening will take place on March 6th from 4pm – 7pm.  Everyone is invited to tour the new building during this event and get a first hand look at the new green roof covering over 1600 square feet of the building.
"We are thrilled about having a LEED certified facility for the City that features a green roof!" says Dan Dubruiel, City Administrator of Wildwood, Missouri.  The LiveRoof® 4.25" Standard System grown by Green Gate Farms and installed by Sunnyside Nursery LLC, covers three sections of the roof on this new building; the utility room, the garage, and the front entryway.  The sedums planted in the LiveRoof® system were chosen specifically for Wildwood's particular climate.
Beyond the aesthetics of a green roof, the vegetation from this installation absorbs rainfall and reduces storm water runoff.  This green roof helps reduce rooftop temperatures during summer to save energy, as well as protecting and extending the life of the roof membrane.  Green roofs are estimated to double or even triple the life of roofing materials and they work as insulation to reduce heating and cooling costs.
In addition to using plants well-established in soil specially engineered for the extremes of a rooftop environment, LiveRoof modules include unique features which establish a green roof as a naturally functioning ecosystem. With LiveRoof, the green roof plants are fully grown when the system is installed for instant results, enduring beauty and low maintenance.The LiveRoof System reduces labor costs to maintain compared to most systems, because the established plants thrive as their own living mulch.