LiveRoof, LLC is a West Michigan Company that developed the LiveRoof® Hybrid Green Roof System: the only green roof solution installed with fully mature plants thriving in a healthy, connected ecosystem from day one of installation. LiveRoof's natural function and natural beauty offer exceptional performance, require very low maintenance and have a predictable cost. LiveRoof projects often become signature elements on commercial, public, university and school buildings all over the US and Canada.
I am Doni Burton, Business Development Specialist for LiveRoof Global, LLC. It is my privilege to interview amazing people from our LiveRoof Network this year. My main responsibility as business development specialist is working with LiveRoof Global Growers and their customers. Previously, I completed my doctor of education in 2019 and most of my career was in educational administration. I have also taught for many years as a university professor, but working at LiveRoof has taught me about the incredible benefits provided by green roofs. My hope is that this series of interviews will nurture the environmental and horticultural interests of each reader.
This year LiveRoof celebrates its 16th year and we are doing so with a year-long theme: The Evolution of the Green Roof. Specifically, we will focus on LiveRoof Growers, Products, Processes and Plants. Please enjoy this second interview in the series. Additional interviews to follow include: Forbs as Green Roof Plants (June), Grasses as Green Roof Plants (August), and The Evolution of Biodiversity in Green Roofs (September).
To celebrate our talented team members, I spoke with two LiveRoof Global, LLC network growers; Jani Witteveen from LiveRoof Ontario, in Ontario, and Klint Bolhuis of LiveRoof, LLC., in Michigan. I wanted to find out what it takes to grow sedums for green roofs and what changes they have seen in the green roof industry over the past decade.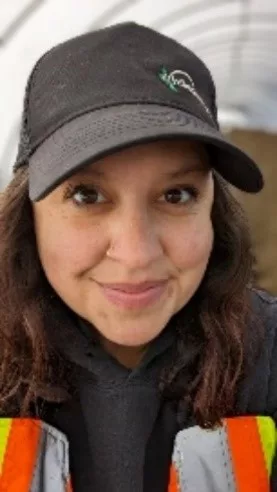 Jani Witteveen, Grower, LiveRoof Ontario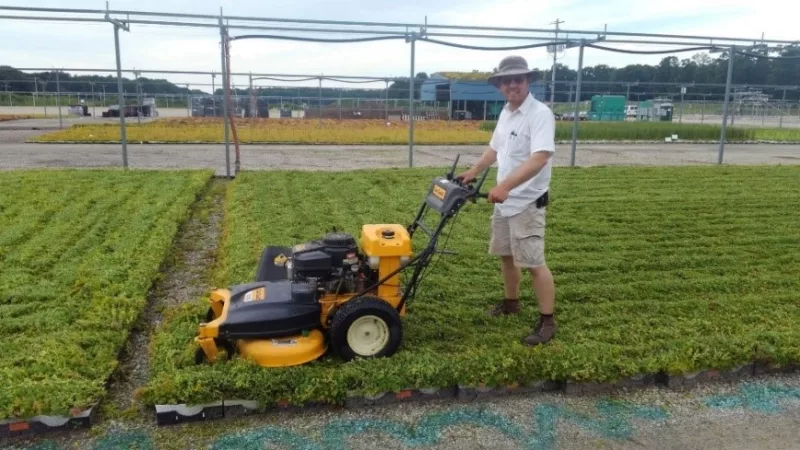 Klint Bolhuis, Grower, LiveRoof LLC
Jani and Klint both have horticultural backgrounds. Jani studied conservation at the University of Waterloo and has a technician diploma in horticulture from Lambton College. She moved directly into wholesale greenhouse growing, where she learned about processes and logistics. Peter and Ellie Hillen hired her to start growing for LiveRoof Ontario in early 2012. Klint has worked in Ag related environments for most of his life. Klint worked in his family's nursery from the age of eight through his early twenties. He earned a major in English and a minor in Spanish at Grand Valley State University. Klint joined LiveRoof, LLC. in 2015, and he knew immediately that producing roofs was something he wanted to do.
Jani and Klint share similar reasons for being motivated growers…
Jani loves her work, "I honestly can't imagine working in a different industry. There is something so remarkable about being able to work with nature to grow and produce something so beautiful and hardy." Klint's greatest motivation for growing green roofs is the beauty of the green roofs, "They make a place beautiful, unique and interesting wherever they are used. It is nice that green roofs provide so many other benefits, but for me, I just like the way they look." Jani and Klint value the contributions growing green roofs provides for the environment. Through this contribution Jani and Klint connect with nature themselves and connect others to nature via the roofs they grow.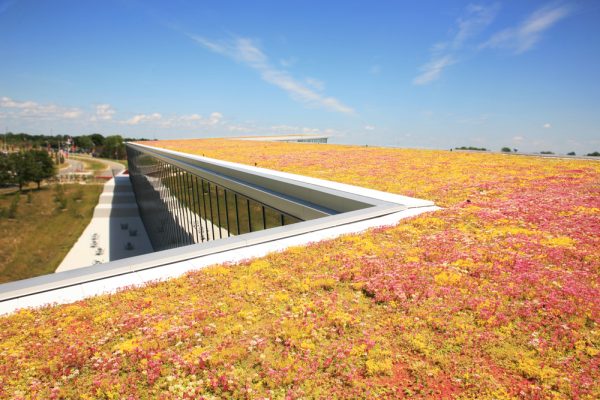 Haworth HQ, Holland MI, Grown by LiveRoof LLC
Jani and Klint's "Top 10" Reasons Why Sedums are Great for Green Roofs! (presented in no particular order)
Jani adores sedums, "I'll find sedums growing in my pockets and in my boots, and it's always a little treasure to realize how sedums really are the "Little Engine that Could of plants: determined, and tenacious, succulent and evergreen, just amazing." Klint believes, "Sedums are the best plants for our Great Lakes Climate." Below is Jani and Klint's combined Sedum "Top 10" list illustrating why sedums are the MVP of Green Roof plants!
Sedums make maintenance of a green roof easy for the owner.
Weeds are easy to spot.
They are very drought tolerant.
Sedums come in many varieties (even tall!)
They stand up to both heat and cold.
Sedums grow and fill in rapidly.
They tolerate high winds.
They come in a broad range of sizes, textures and colors.
Anyone can grow Sedums!
Sedums are beautiful to look at.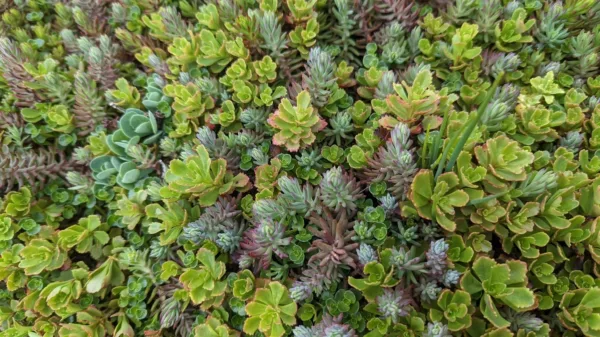 Modified Giants Mix from Jani at LiveRoof Ontario
Next, I wanted to know what changes Jani and Klint have been a part of related to growing sedums for green roofs. Jani appreciates and values her LiveRoof Ontario team, "I have been fortunate to be part of such a skilled team of people." Jani and Klint are grateful for the processes used to grow, cut and ship sedums as well as how these processes have been improved upon and refined over time. Klint has been with LiveRoof LLC. through important changes, "The changes I'm most happy about are the additions of stock beds of varieties that we use a lot." Plant diversity has changed and improved over the years as well. Jani appreciates attention to detail and plant breeding, "The diversity of plants available from the LiveRoof breeding program has made the design process simply fun!"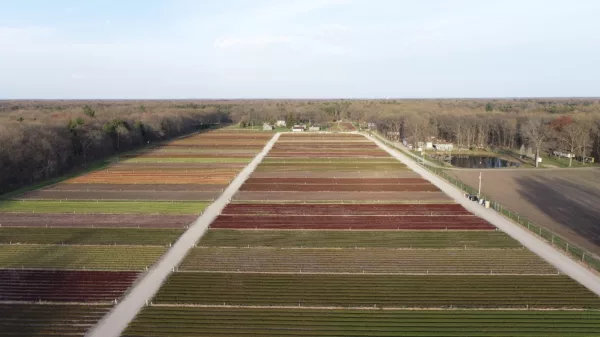 Mother Sedum Stock Beds in Nunica, MI – LiveRoof LLC
Conclusion – Looking forward to the future
What do Jani and Klint see for the future of sedums and green roofs? Jani and Klint consider sedums as the workhorse plants for green roofs; however, they acknowledge green roof trends with native plants and biodiversity. Jani has plant knowledge for her region, "While most sedums are not native to many Canadian cities, they can help as an "adapted" foundation plant (living mulch) in a green roof setting to allow native varieties to flourish." Jani and Klint rely upon the attributes of sedums and believe green roofs will continue to be stronger with sedums. Klint values sedums and their use on green roofs, "As far as green roofs being used in the future, I'll say I certainly hope they are used more." Both growers ended their interviews with encouraging comments suggesting that everyone try growing sedums, and in doing so, the public will see just how amazing sedums are and how easy they are to care for and grow! "When the public supports something, it is so much more likely to succeed," said Jani.
Interviewing Jani and Klint was a true joy. They were both insightful, knowledgeable and dedicated to their craft. We are fortunate to have them on our LiveRoof team. Jani and Klint are just another reason we can confidently say "The Proof is in the Roof".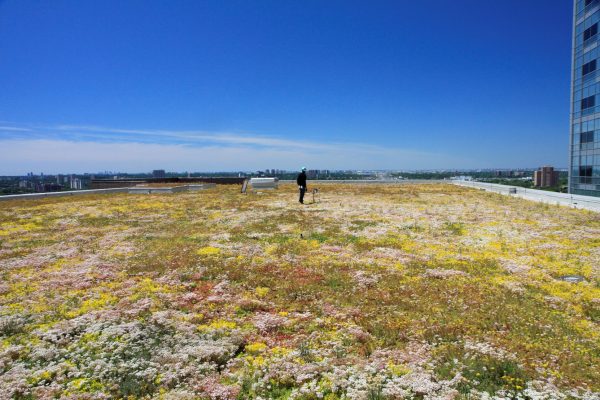 Humber River Regional Hospital – LiveRoof Ontario
This is the second in the series: The Evolution of LiveRoof its People, Products, Processes and Plants. We hope you enjoy the series throughout this year. The next interview will focus on Forbs and will publish at the end of June. I'm Doni Burton, Business Development Specialist for LiveRoof Global. I can be reached via email at doni@liveroof.com.
You can read the previous article in this series, about our founder Dave MacKenzie, here.