In their May 2022 issue, Irrigation Leader Magazine featured our very own John Scholten, product specialist at LiveRoof, in a featured interview discussing our green roofing products. The interview included discussions about LiveRoof's RoofBlue® RETAIN™ system, how to create desirable green spaces, and even tips on growing rooftop vegetables! An excerpt of the article is below:
Irrigation Leader: What kind of plants can be grown on green roofs?
John Scholten: When we first started out, we were growing predominantly sedums in our standard tray, which is a 4¼‑inch-deep system. A 4‑inch system is standard in the industry. As architects have gotten more comfortable with green roofs, they have wanted more grasses, perennials, and other plants that require deeper soil, so we introduced a 6‑inch module, and we now also have an 8‑inch module. The natural progression from that was to ask whether we could grow vegetables on a roof. About 8 years ago, we had a commercial client that wanted to have a vegetable garden as a part of its larger sedum LiveRoof, so that was our first trial. The soil that we normally use in a green roof is highly inorganic—ideally, for a green roof you want 90 percent inorganic soil or more—but to provide adequate nutrition to a vegetable garden, you need organic soil. The problem is that as organic soil decomposes, it settles and compacts, which impedes drainage. Our solution was to take an engineered green-roof soil and mix it at about a 50‑50 ratio with a more conventional potting soil that contains peat and other compost.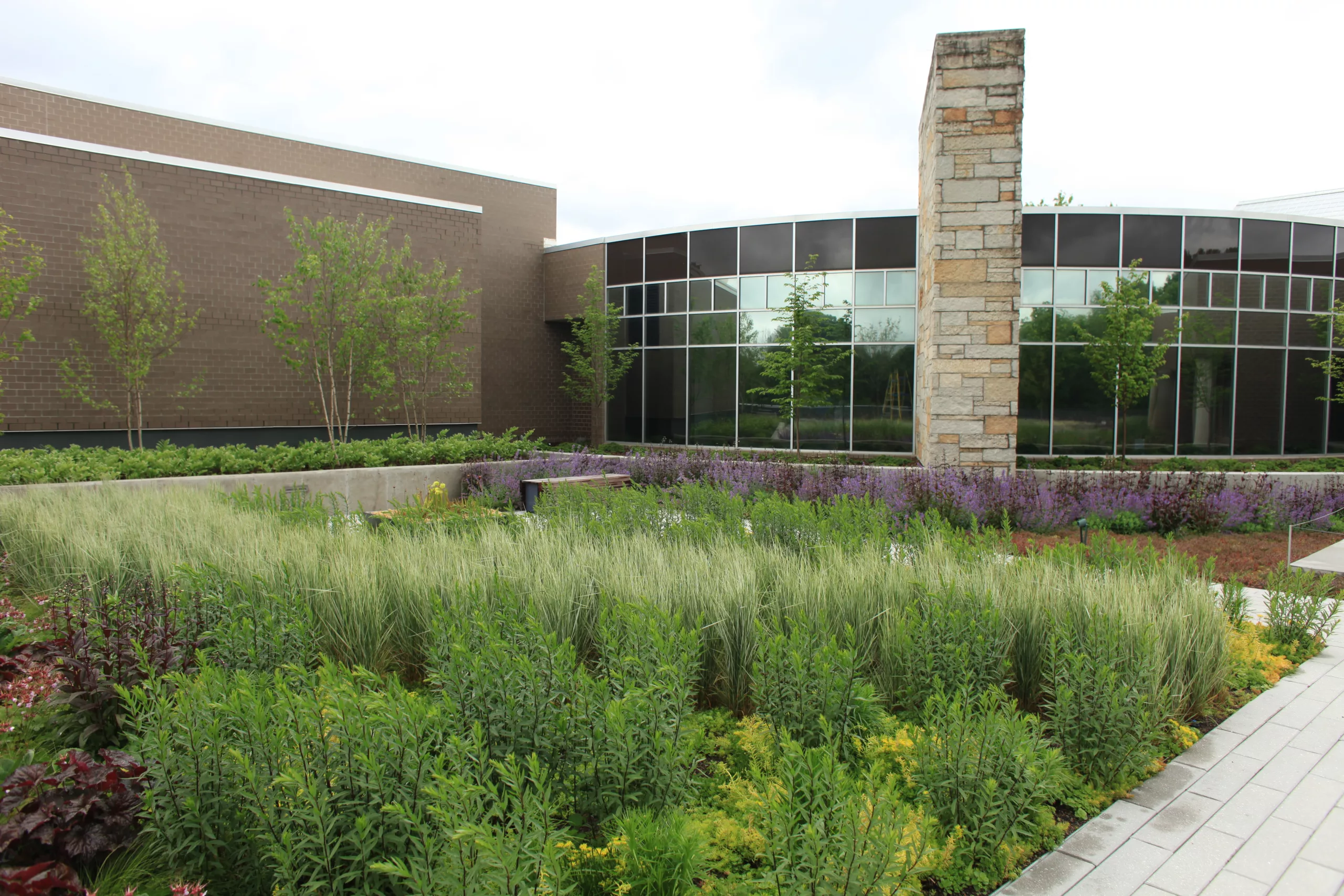 Irrigation Leader: If the organic soil compacts gradually, do you need to top up the soil periodically?
John Scholten: You may have to add some different products over the long term. We recommend doing a soil analysis, which will tell you the porosity of the soil and whether you need to add anything. We've worked with the 50‑50 mix of soils for multiple years, and it works well. Since leaves and other organic materials remain, you may have to mix in more of the inorganic engineered soil to keep it close to the 50‑50 ratio that is suitable for growing vegetables.
Irrigation Leader: What kind of vegetables can be grown in green roofs?
John Scholten: Beans, herbs, lettuce, peppers, spinach, and tomatoes do well. Taller vegetables, such as corn, would not work as well because of the small amount of soil. Even with tomatoes, it's wise to choose smaller varieties, because you're only dealing with 6–8 inches of soil, which may not be sufficient for a plant that's 3–5 feet tall. Beans and row vegetables are prime candidates for rooftops. We always tell people to grow the things that are more difficult to find in stores, so that they are using this valuable space to grow vegetables that they really want.
Click here to read the full story and see the rest of the May 2022 Irrigation Leader Magazine.